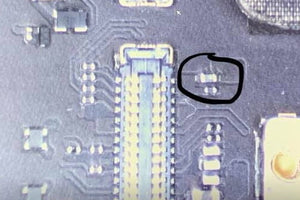 iPad Rehab Microsoldering
Touch/Backlight filter 5x REPAIR COMBO SET for iPad Pro 12.9" First Generation
Regular price
$9.99
$0.00
Unit price
per
Item: iPad Pro 12 inch Blown Backlight/Touch filter Repair Combo set, 5x touch filters, 10x backlight filters, plus BONUS 2 backlight diodes
If you're here, it means someone didn't disconnect the battery! Unlike most iPhones, the touch system in iPad Pro is powered by the battery voltage--so there WILL be live voltage for touch at the connector in addition to backlight. It doesn't take much to temporarily short this voltage to ground at the connector when plugging in a screen---and POP goes the filter.
If you have a backlight failure, OR a touch failure then you know that both systems may have been damaged. We recommend replacing the entire set of backlight and touch filters anytime there was a short to ground at the connector. This will save you from having to open the device again and risk the screen.
We also recommend taking a CLOSE look at the screen connector. Do not plug in a screen with any bent/smushed pins or you will be popping filters again!
We also offer RUSH mail in repair service--which makes Christy smile, it's her favorite repair! 
https://www.ipadrehab.com/index.cfm?Page=Start-a-Repair
Or come learn how to do it yourself at one of our trainings: 
https://www.ipadrehab.com/article.cfm?ArticleNumber=42
---