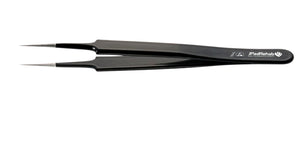 iPad Rehab Microsoldering
Our Favorite Tweezers. The Black iPad Rehab Tweezers.
Regular price
$59.00
$0.00
Unit price
per
We partnered with Dumont in Switzerland to have them make us these custom tweezers for iPhone Microsoldering.  These premium tweezers are ultra fine point that are strong even at high heat.    These are our favorites.   Sharp enough for placing jumpers, and thin and strong enough for scraping underfill in tight spaces.   This tweezer is preferred by BOTH Jessa and Mark for iPhone bga rework.

We love these.   Keep under lock and key and don't let anyone play darts with them.
---