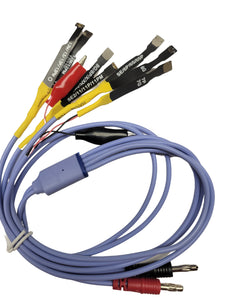 iPad Rehab Microsoldering
DC Power Supply Battery Connector Squid--with iPhone 13/14
Regular price
$15.00
$0.00
Unit price
per
This is our current favorite of all the China crap we have tried.  It has a great selection of connectors.
This cable set comes with adapters for iPhone 6, iPhone 6+ and the 6+ also fits the 6s and 6s+ and SE/SE2. It also has a proper 7, 7p, 8, 8p, X/XS/XS Max/XR, and 11/11Pro/11ProMax, also 12/12PRO/12PROMAX/12 mini/13/13 Pro/13 Pro Max13 mini/14/14 Plus/14Pro/14 Pro Max connector so you can work on all modern iphones with one cable.
NOTE- Disconnect at source wait until cool then disconnect from battery connector
iPhone 12-13 series there is only one connector on the squid however the battery is in reverse polarity please double check with multimeter that battery connector is attached to squid in correct orientation 12 pro battery side 12 pro max board side
The convenience can't be beat for using your DC power supply to troubleshoot "no power on" problems in iPhones. Connect the cable to your DC power supply, set the voltage to battery voltage, and then use the right adapter on this cable to connect to your device. Once you prompt to boot you can see if your device is consuming high current (i.e. short circuit), low current (i.e. dead chip/bad data line), or shows the normal signature current consumption 'heartbeat' of a device that is alive.



---